Dogs having a balanced and nutritionally complete diet, won't feel hungry in between their meals. When they do feel like snacking sometimes, there's no harm in giving them fruits and vegetables. Moreover, these veggies and fruits are safe for your furry friend and way healthier than their prepacked food. Healthy snacks for my dog are always included in his diet.
Just a friendly reminder, make sure that you are keeping the overall calories of fruits and veggies below 10% of your pet's daily diet. As anything (including fruits, veggies and canned food) above 10% may harm your dog's digestive tracts.
In this article, I have listed 22 safe and healthy snacks for my dog that you can try to include in your pet's diet.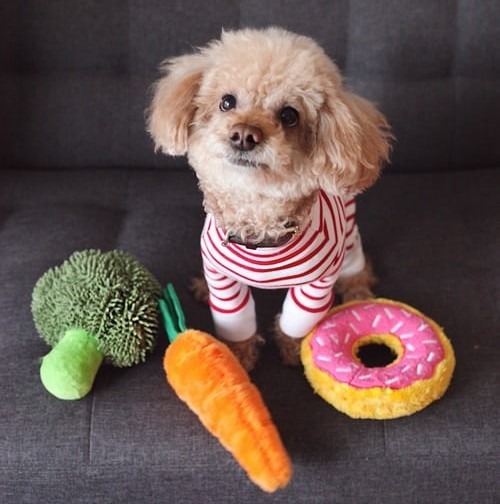 Here is a TLDR, but make sure to read the correct way to use each one before running to the pantry. Being cautious can prevent complications that neither you nor your small (or big) friend might enjoy.
Carrots
Peanut Butter
Eggs
Salmon
Cheese
Blueberries
Popcorn
Pineapple
Watermelon
Bread
Green Peas
Oatmeal
Apples
Broccoli
Chicken
Sweet Potatoes
Rice
Bananas
Celery
Shrimp
Pumpkin
22 healthy snacks for my dog:
1. Carrots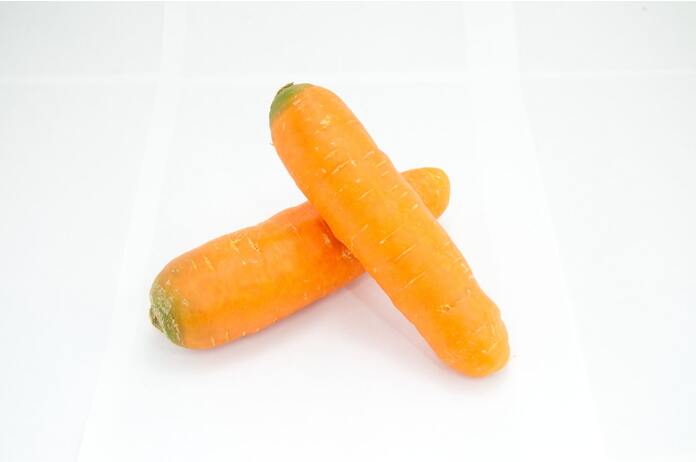 Pick up a soft baby carrot and cut it in small bite-sized pieces to prevent choking. It is a healthy snack that is good both raw and cooked. Forgot to brush your dog's teeth? Give your pooch some carrots! It naturally cleans up plaque from your dog's teeth. In addition to this, carrots are rich in Vitamin A, fiber, and minerals. They are also low in calories, which is a plus point.
2. Peanut Butter
Peanut butter is a safe and healthy treat only if it is unsalted or unsweetened, as salt or sugar can be harmful to your pet. Moreover, peanut butter has high levels of fat and calories, so make sure to serve a little amount. You don't want your dog to be a fat potato!
3. Eggs
Eggs are the best healthy snacks for my dog. He loves to eat scrambled and boiled eggs. Plus, they provide an adequate amount of vitamins, minerals, and digestible protein. Just keep them away from raw egg white, as it contains bacteria known as Salmonella.
4. Salmon
Cooked salmon is one of the best and healthy foods for your pet. Salmon is beneficial for both humans and dogs, due to Omega-3 fatty acids present in it. It can further help in keeping your dog's fur and skin healthy, and it also reduces inflammation. Just avoid giving raw or salmon with bones to your pooch. Instead, slice it in thin layers and serve them crispy as a special treat.
5. Cheese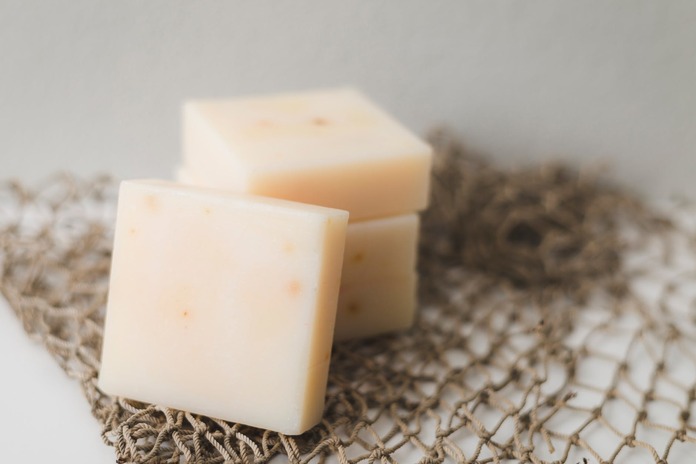 Cheese is safe for your dog unless he is not lactose intolerant. In such cases, your dog might show digestive symptoms like diarrhea and stomach pain after the intake of cheese. To avoid such situations, make your dog familiar with cheese gradually. Some best cheese options include mozzarella, which is low in fat but high in protein and calcium.
6. Blueberries
Blueberries offer healthy antioxidants that help in fighting diseases and provide various fiber, vitamins, and minerals. Also, they are low in calories and come in a treat size for your dog. Add a few berries in his meal, and he would love it.
Caution: Blue puppy kisses can melt your heart!
7. Popcorn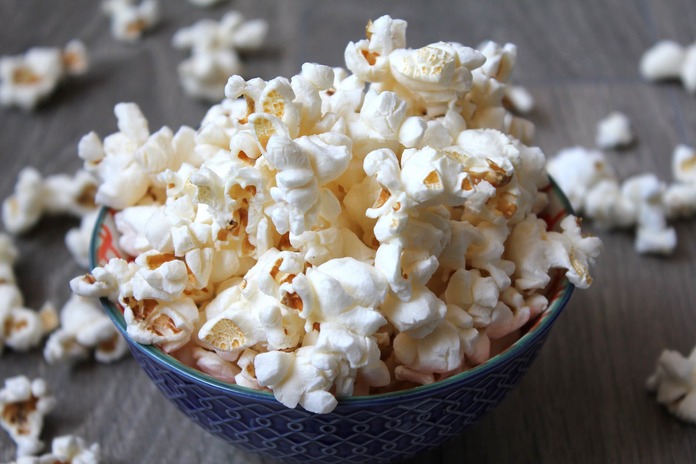 Air-popped, un-buttered, and un-salted popcorn are best for your furry friend as they can improve your dog's digestion and overall eye health. Just ensure that the kernels are fully popped; otherwise, it may cause choking. It is a fun crunchy snack to enjoy with your pet while watching your favorite movie.
8. Pineapple
Fresh pineapple is rich in fiber, vitamins, and minerals and must be feed in a small amount. Just watch out your dog from having too much pineapple as it may cause diarrhea and nausea. It is a great nutrient-dense treat for your dog.
9. Watermelon
Watermelon has 92% water, which is a healthy snack to keep your pet hydrated in summers. It is packed with Vitamin A, C, and B-6, potassium, and is low in calories. Make sure to remove all the seeds and rind before feeding to your dog, as its seeds can cause indigestion and intestinal blockage.
10. Bread
Whether plain white, whole grain or brown bread, all are safe to feed occasionally. Check the ingredients first; it must not contain any raisins as they are very harmful to dogs. In addition to this, don't serve anything else with bread as it can add more calories to your pet's diet.
11. Green Peas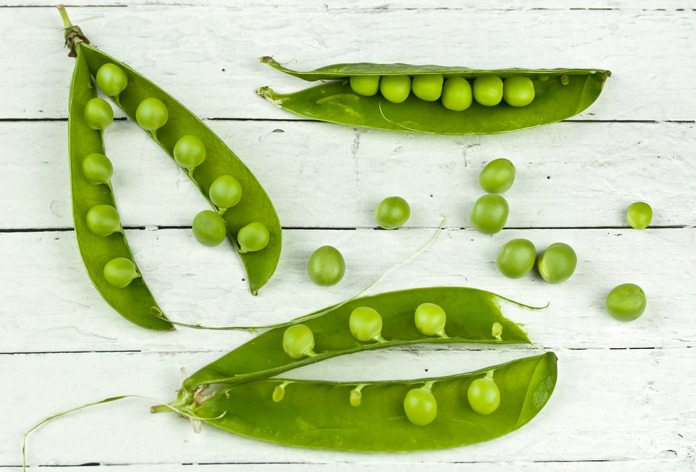 You must have seen green peas as a common ingredient in dog food. I find green peas very healthy snacks for my dog, as they are low in calories and have lots of nutrients. Only feed fresh or frozen peas, as canned ones have salt added to it.
12. Oatmeal
When it comes to oatmeal, plain ones are the best for dogs. They provide a high amount of fiber and some vitamins and minerals. It is also required to feed oatmeal in a small amount as it may lead to obesity.
13. Apples
Apples are rich in fiber, calcium, minerals, and vitamins A, K, and C. Remove all the seeds (it contains cyanide) and core and slice a few pieces for your dog. He will surely love sweet and juicy apples.
14. Broccoli
It is safe to feed your dog raw or cooked broccoli in a small amount. It is low in calories but has a high amount of nutrients and vitamins. Feeding too much can cause stomach upset; so, it could be an occasional snack.
15. Chicken
If your furry friend's diet has a lack of protein, the unseasoned and cooked chicken will do this job. You can either feed chicken as a meal itself or include a small amount in his regular meal. Make sure the chicken is fresh and doesn't have any bones. Serve him a fully cooked bowl of chicken and make his day.
16. Sweet Potatoes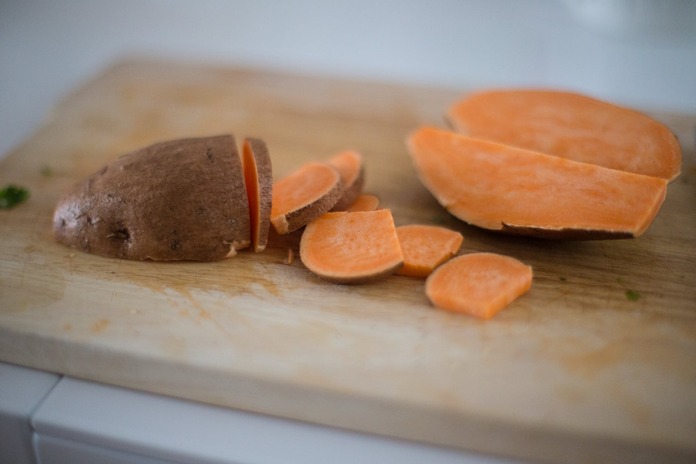 Sweet potatoes are easy to digest and are rich in Vitamin A, which is essential for your dog's immune system and eye health. Just add a few boiled pieces of sweet potatoes to your pet's regular food. Make sure to clean the sweet potatoes properly and feed this snack occasionally. Moreover, too much Vitamin A can cause weak muscles and bones in dogs; just a little quantity is enough.
17. Rice
Dogs can easily eat and digest rice. It could be both brown and white rice but cooked properly. It also helps in resolving stomach issues. For additional benefits, add a little bit of chicken to some rice for some extra protein.
18. Bananas
Bananas are rich in potassium, fiber, copper, and vitamins, which provide better digestion, a healthier heart, and keep your pup energetic. This fruit is also low in sodium, calories, and cholesterol. However, it has a high level of sugar; so, one or two slices are more than enough.
19. Mushrooms
The only store-bought ones, Portobello mushrooms, are good for dogs. However, only plain mushrooms that are free from onions and garlic are safe for dogs to eat. Also, wild mushrooms are toxic to them and may lead to mushroom poisoning.
20. Celery
Celery is another good diet-friendly treat for your dog. It is rich in Vitamin A, B, and C and low in calories that will boost up your dog's energy level, immune system, and complete health. Feed him a bite-size piece to prevent choking or crush it to make it easier to digest.
21. Shrimp
Feeding a shrimp is not that easy, especially when it is for your beloved pet. Make sure you clean the shrimp properly; remove its digestive tract, as well as the shell. An unseasoned and cooked shrimp is a healthy treat for your dog, as it has a good amount of vitamins and minerals.
22. Pumpkin
A seasonal food, pumpkin is the best when it comes to your dog's health. It is loaded with fiber and has many health benefits for your dog. It provides your dog with a shiny coat and lots of vitamins. In the case of stomach upset situation, pumpkin is one of the healthy snacks for my dog.
Warning about healthy snacks alternatives for dogs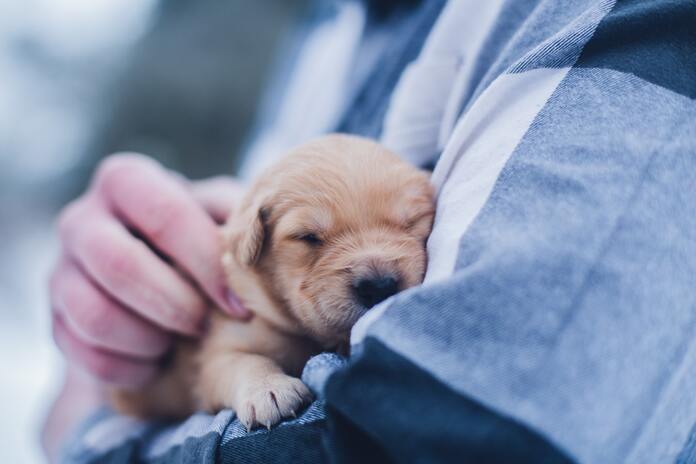 It is not safe to feed any fruit or veggies without consulting with your dog's vet. Many pet owners may not even know if their dog is allergic to something. Some food could be safe for your pet, but it could be dangerous for some dogs to eat. Just make sure you feed your dog in a moderate amount and notice him for any side effects.
What healthy snacks does your dog enjoy?
Let us know what snacks are your pooch's favorite!